A busy year for NARREC
[The Namibian – January 2011]
Owls and folklore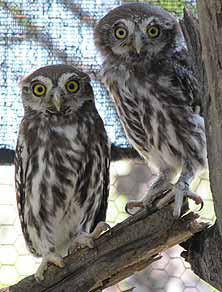 THE year 2010 was a busy one for the Namibia Animal Rehabilitation Research and Education Centre (Narrec) with the number of birds of prey that were rescued by members of the Namibian public and given to the rehabilitation centre. The most endearing were a pair of nestling owls that arrived wide-eyed. Of the approximately 150 species of owls found throughout the world, only eleven are in Namibia. Because most owl species are nocturnal and largely secretive they are often not encountered, yet many live in close proximity to people in both rural and urban settings.
Owls evoke a wide variety of emotions in people, adored by some and feared by others. Namibian schoolchildren visiting Narrec usually admit to knowing of the local superstitions that link owls with bad luck and death. Although most students emphatically state that they do not believe in these old folk tales, it does not take much telling to prove that these stories are based on fact, but a link has been lost.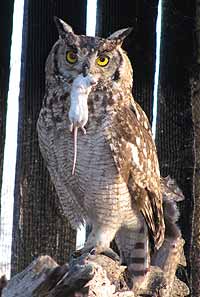 Owls eat creatures that are pests to people. Insects, rodents and seed-eating birds can destroy crops in the fields or harvested grain in the stores or food in kitchen cupboards. Owls are sedentary birds that will only choose a living space where there is sufficient owl food and safe places to roost and nest. We now know that human suffering from disease and famine has often been caused by pest species, insects and rodents. Somehow in the passing down of folklore owls have been blamed for bad luck and death instead of for alerting people to the true culprits, the owls' prey.

Liz Komen
NARREC